QCPP has a variety of resources and tools to help your pharmacy get ready for either your initial assessment or your two-yearly reaccreditation assessment.
The following table provides you with an agenda outline with the components to be assessed. Please note that you may not be assessed in the order the components are listed below.
18 QCPP elements
| | | |
| --- | --- | --- |
| 1. Compliance with legal and professional obligations | 2. Supply of medicines, medical devices and poisons | 3. Delivery of health programs and services |
| 4. Advertising and promotions | 5. Pharmacy premises and equipment | 6. Operating an effective and sustainable business |
| 7. Complying with and improving the Quality Program | 8. Requirements for pharmacy stock and services | 9. Ordering, receiving, storing, pricing and disposal of stock |
| 10. Hiring out of equipment | 11. Customer service | 12. Recruiting staff |
| 13. Inducting staff | 14. Managing staff | 15. Ongoing staff training |
| 16. Dismissals and resignations | 17. Maintaining safety and security | 18. Information technology |
QCPP Knowledge Hub
QCPP Knowledge Hub is available to help you prepare for assessment and ensure your pharmacy meets QCPP requirements. This online resource contains the electronic copy of the QCPP Requirements, assessment guidance, sample policies and procedures, and answers to frequently asked questions.
QCPP accredited pharmacies can access the Knowledge Hub with their QCPP Knowledge Hub username and password. If you require a login or have forgotten your login details, please complete a QCPP Knowledge Hub Login online request form
To help ensure you are ready for your assessment, you should work through the QCPP checklists in your Requirements Manual (blue ring-bound folder or electronic copy in the QCPP Knowledge Hub) to make sure that you have appropriate evidence.
It's important that you have either electronic or printed copies of your evidence to show your assessor. If your pharmacy is part of a group that that does not keep some of your records on-site, please ensure you request copies of these records ahead of your assessment date.
There is also a downloadable Assessment Guide, Professional Services Guide and Maintenance Checklist to help you get ready.
Can I receive some further assistance to prepare for my assessment?
QCPP does not visit pharmacies or offer consultation services to prepare for assessment. Member organisations, banner groups or independent quality management consultants may be able to assist you if you require further assistance to prepare for your assessment.
Remote assessments
As of May 2020, QCPP is conducting assessments remotely in response to the COVID-19 pandemic. If you have an assessment coming up, we encourage you to make the most of the QCPP Knowledge Hub to help you prepare.
More information on the remote assessment process, including FAQs and timelines, is available on Remote Assessments.
To give you an overview of what to expect for your remote assessment, check out the short video below from our QCPP assessor, Jacqueline Abboud.
Remote assessment checklist
To help you prepare for your remote assessment, read the pre-assessment checklist, which breaks down key steps in the remote assessment model.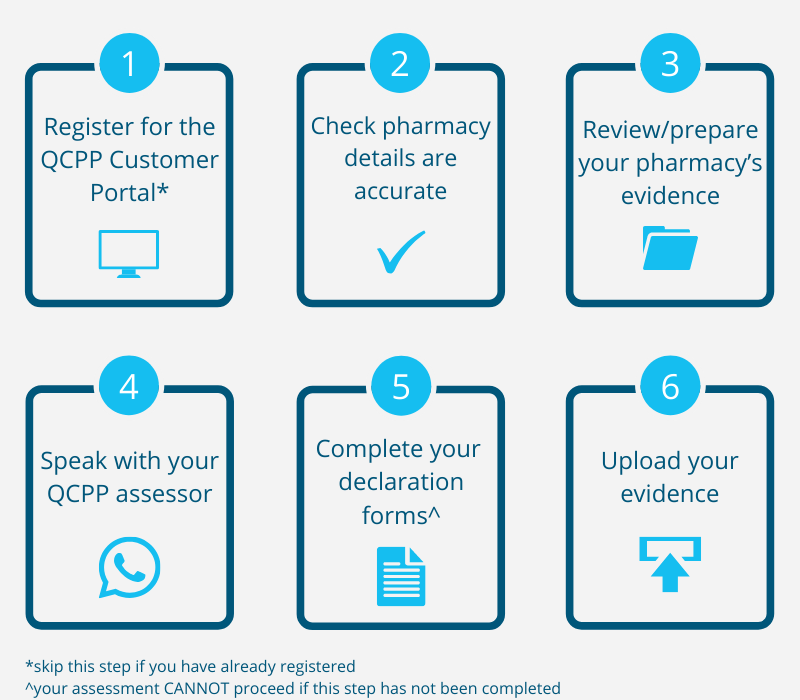 On-site assessments
On-site assessments are currently suspended as a result of the COVID-19 pandemic. QCPP assessments are currently being conducted remotely.