Quality Care 2020 - What to expect in the coming months
The Quality Care Pharmacy Program (QCPP) is undergoing significant enhancements via Quality Care 2020 and it is vital that pharmacies are across these improvements. 2020 is a critical time for the transition to Quality Care 2020. Make sure you are ready! Here are some key time frames and information to help you prepare.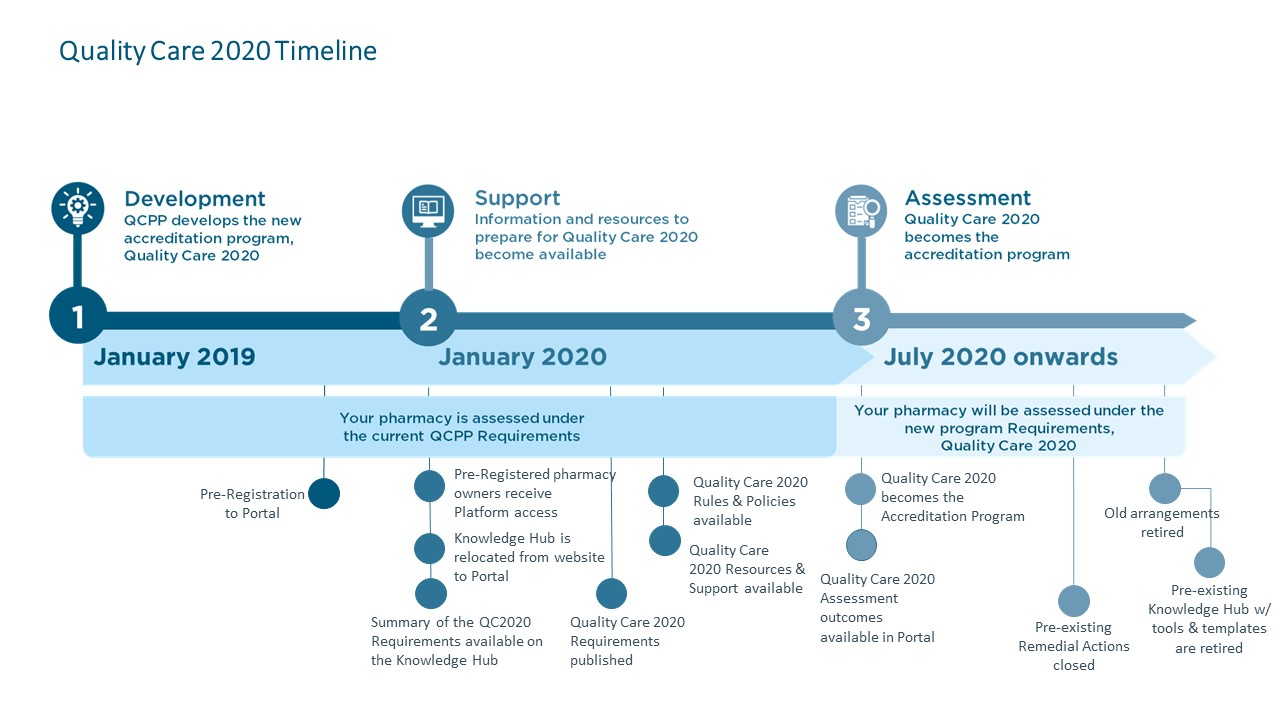 Quality Care 2020 Portal Pre-registration
QCPP received over 3000 registrations for pharmacy owners during the three week pre-registration period up to 1 December 2019. The QCPP team is currently processing these registrations and registrants will receive an email in January 2020 with their login details for the Quality Care 2020 Portal. The Quality Care 2020 Portal will include a new Knowledge Hub with the Quality Care 2020 Requirements and other useful resources for preparing for your accreditation.
QCPP has identified that several hundred registrations received require follow up due to incomplete or incorrect information provided. As we know that pharmacies are incredibly busy in the lead up to the end of year we will be following up with the relevant registrants throughout January.
When will I receive my login details for the Quality Care 2020 Portal?
Due to the large volume of responses to pre-registration QCPP have decided to release portal access in waves throughout January. This is to ensure there is no interruption in service to you when trying to access the new portal and existing program materials. This will also mean the QCPP team can provide more timely support and responses in relation to any queries.
Portal invitations will be released based on where the pharmacy is at in their accreditation cycle.
As a result of choosing to approach the portal roll out in waves, the existing Knowledge Hub will continue to be accessible via the same link on the QCPP website throughout January. QCPP will communicate when access is being transferred to the Portal.
Quality Care 2020 Requirements Development
During 2019 the QCPP team have been working closely with industry and subject matter experts on the development of the Quality Care 2020 Requirements. A comprehensive consultation and review process (including pharmacy trials and evaluation) has been conducted to ensure appropriate alignment of Quality Care 2020 Requirements against contemporary industry practice and the revised AS85000:2017 Quality Care Pharmacy Standard – quality management system for pharmacies in Australia.
The Quality Care 2020 Requirements are now being finalised and will be available to all accredited pharmacies in early 2020. As part of the portal release in January 2020, a summary of the 'QC2020 Requirements Key Changes' will be available for all accredited pharmacies to access.
APP Session and Industry Briefing on Quality Care 2020
QCPP will present a session on Thursday 19th March 2020 at APP2020 (The 2020 Australian Pharmacy Professional Conference and Trade Exhibition) informing delegates of the Quality Care 2020 changes ahead, to enable pharmacies to plan and prepare for 2020 and beyond. The QCPP team will be in attendance at the QCPP stand trade exhibition to assist pharmacies with an queries relating to the upcoming changes.
On Tuesday 29 October 2019, a Quality Care 2020 briefing was held with representatives of community pharmacy to share and discuss the changes that make up Quality Care 2020. The Quality Care 2020 briefing presentations can be downloaded from the QCPP website. A second industry briefing will be held at the Gold Coast on Wednesday 18th March 2020 for staff from banner and management group head offices and other pharmacy membership and support organisations. To register your interest email QualityCare2020@qcpp.com.
Further Information
You are welcome to send other feedback and advice on Quality Care 2020 to QualityCare2020@qcpp.com
You can also contact the QCPP Helpline on 1300 363 340 (9am-5pm AEST).
To stay informed about Quality Care 2020, visit the Quality Care 2020 website
QCPP office closure notice
The Quality Care office will be closed from noon (AEDT) 24 December 2019 and will reopen 2 January 2020. We will be unable to respond to enquiries during this time. There are a number of resources on the QCPP website and Knowledge Hub which may assist with your enquiry. Emails and phone messages will be responded to from 2 January 2020.
The QCPP team wishes you a safe and enjoyable festive season.