Completing a Root Cause Analysis
Have you completed your Quality Care 2020 assessment and received a non-conformance?
To close out your non-conformance, you must submit evidence of a corrective action and complete a Root Cause Analysis within 60 days of the release of your interim report.
Four steps to a Root Cause Analysis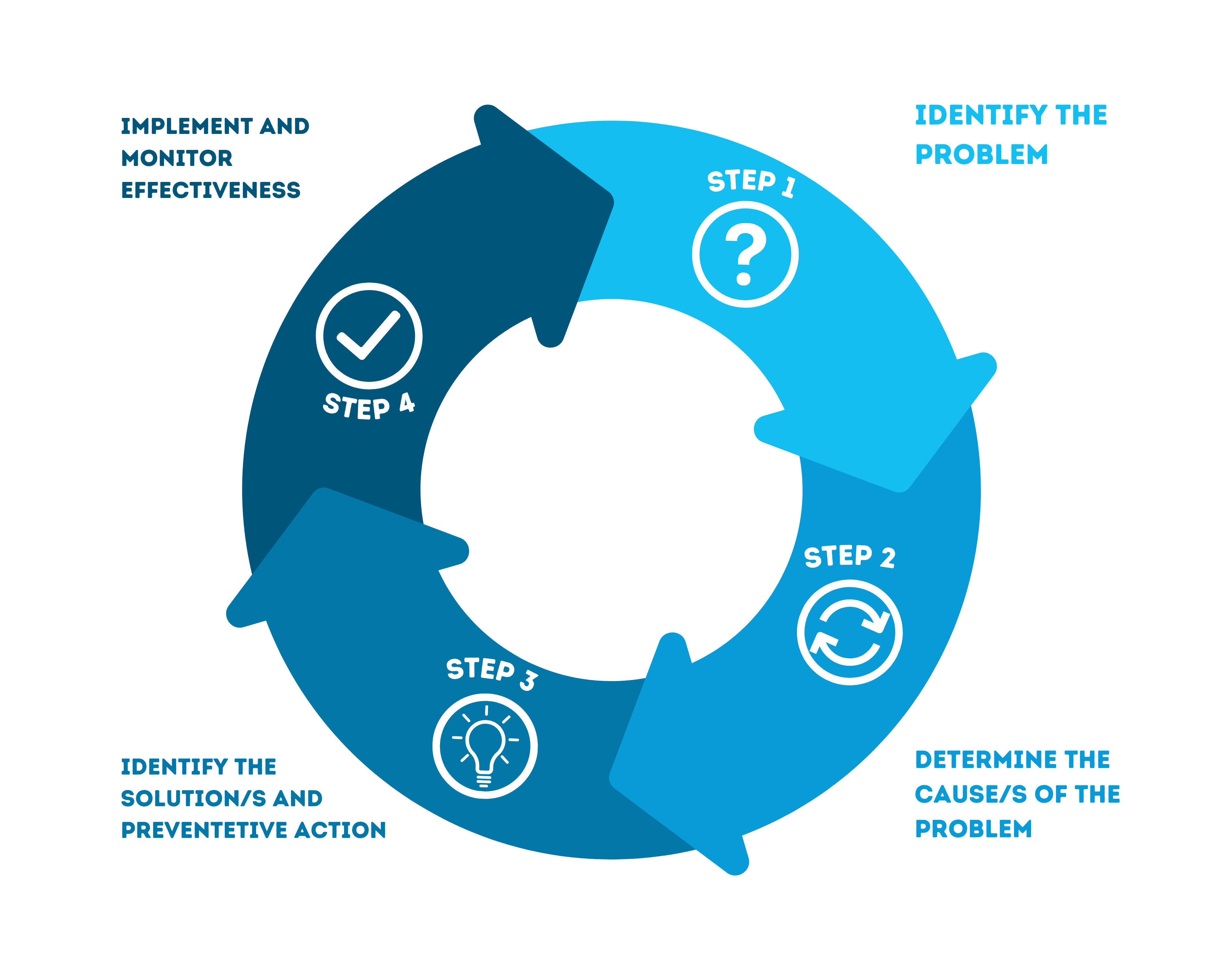 Learn more about completing Root Cause Analysis and Corrective Actions by clicking on the button below!
Corrective Actions Short Course
---
Approved Refresher Training
As per requirements 3.3.10 - 3.3.12, Pharmacy assistants who are involved in the supply of Pharmacy Medicines and Pharmacist Only Medicines are required to undergo initial training by a Registered Training Organisastion as well as three hours per year of approved refresher training related to the provision of Pharmacy and Pharmacist Only Medicines.
There are three types of training that can count towards a Pharmacy Assistants 3 hours per year:
Accredited Training
In-Pharmacy Training
QCPP Approved Refresher Training
To confirm if the training requirements apply to you and to find out more information on the different types of refresher training and what evidence is required for each to ensure it will count towards the 3 hours we have further information available on the QCPP Website.

Refresher Training Requirements
---
Knowledge Hub and QCPP Website Updates
We've updated the Quality Care Knowledge Hub and the QCPP website's Frequently Asked Questions to provide more clarity surrounding certain requirements.
Follow the links below to read the updated FAQs.
QCPP Website
Evidence and Checklist Questions
Quality Care 2020 Knowledge Hub
Domain 1.3.7 - Continuous Quality Improvement
Domain 4.1.6 - Fridge Temperature and Monitoring
Domain 5.10.2 - Pharmacy RO and OMO
---
Update your Pharmacy's details
Make sure you check your contact details are current leading up to your Quality Care assessment by logging into the customer portal.
On the QCPP website we have a step-by-step guide on how to update your contact information.
---
Is your assessment coming up?
If your re-accreditation is coming up between July and September 2023, we've sent you an email with our top resources and support to help you prepare for your Quality Care 2020 Assessment.
Think you missed the email? Please contact us and we can resend the support information.
---
Support
If you have any questions, the QCPP Support Team is here to help — please email help@qcpp.com or phone the QCPP Helpline on 1300 363 340 (9am-5pm AEST).
You can visit the QCPP website or Quality Care 2020 Knowledge Hub for more information.