In March 2020, as a result of the COVID-19 pandemic, QCPP transitioned to a streamlined remote assessment model. During the transition, QCPP was committed to reviewing the program regularly and listening to feedback from the industry to make continuous improvements to the program.
Following the positive feedback on the remote assessment model and the ongoing uncertainty caused by COVID-19, QCPP will continue conducting assessments remotely as we transition to Quality Care 2020 in October.
Preparing for your assessment
If your accreditation date is on or after Thursday 1 October 2020, you will be assessed under Quality Care 2020 via a remote assessment.
We encourage pharmacies to prepare in the same way they would for an on-site assessment. The Quality Care 2020 Knowledge Hub is your one-stop-shop for resources, references, frequently asked questions, support videos and more, designed to help you understand the new Requirements and prepare for your assessments.
Download QC2020 Remote Assessment Preparation Checklist
Protecting Privacy: How to Redact Information
Visit the Quality Care 2020 Knowledge Hub
Pharmacy Support Sessions
QCPP hosts regular webinars to provide support to pharmacies approaching their Quality Care 2020 assessment. The latest webinar was held in September 2022 and provides insight into preparing for an assessment as well as details on the updates to Quality Care 2020 Version 1.1 and the addition of the Video Component to remote assessments.
Download the Pharmacy Support PowerPoint
QCPP will continue hosting live Pharmacy Support Sessions to assist pharmacies that are approaching a Quality Care 2020 assessment. If your assessment is coming up, keep an eye on your emails for an invitation.
Pharmacy Business & Career Network Podcast
In this episode of the Pharmacy Business & Career Network Podcast, we are joined by Chloe Hennessy, QCPP National Manager, and Simon Blacker, Community Pharmacist and Chair of the QCPP Working Group to learn more about the Quality Care 2020 program.
Assessment process
Quality Care 2020 Assessments are a streamlined process conducted remotely via the QCPP Customer Portal. Pharmacies have 7-days to submit evidence against a range of high-risk areas.
For a detailed overview of when you can expect to hear form us during the assessment, check out the Communications Map.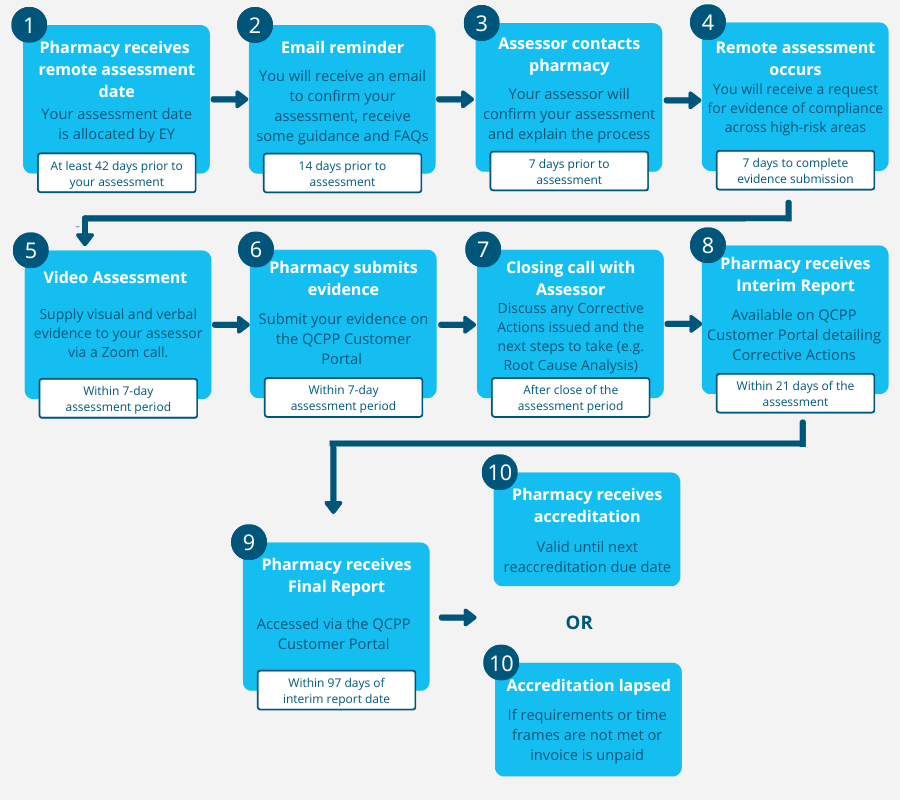 Corrective Actions
There are new levels of Corrective Actions (formerly known as remedial actions) under QC2020 which have been updated to align with accreditation best-practice and promote Continuous Quality Improvement (CQI) within your pharmacy.
Corrective Actions identify areas where improvements to a pharmacy's systems, processes or procedures are required to eliminate causes of non-compliance and avoid possible long term business practice failure.
Under the Quality Care 2020 program, Corrective Actions are divided into three categories (outlined below) based on the level of risk they pose to consumers and the pharmacy business.
Addressing Corrective Actions
All corrective actions must be addressed by the pharmacy post-assessment to rectify and eliminate recurring non-conformance to the standards within the specified timeframes.
Introducing Corrective Actions Short Course
Accreditation will not be granted until corrective actions have been rectified.
---
One of the most common causes of corrective action is the failure to appropriately redact personal information. Do you know how to redact personal details from your evidence?
Learn more under Protecting Personal Information
---
Frequently Asked Questions
Answers to frequently asked questions about the Quality Care 2020 assessments can be found on our FAQs page.
Remote assessment pharmacy feedback
I think the remote set up of the assessment was fantastic. It really suited our pharmacy. Due to the busy nature of pharmacy and especially being in a remote part of Australia where it is hard to get pharmacist cover, the remote process of assessment was much better suited to us.
I was very satisfied how things were conducted remotely, I think the new version will be a lot easier to work with.
The process of remote assessment was so good, I really liked it and I think it would be a preferred way to do it in the future
Support
If you have any questions, please email help@qcpp.com or phone the QCPP Helpline 1300 363 340 to speak to a member of the QCPP Support Team.