Introducing Quality Care 2020

INTRODUCING QUALITY CARE 2020.
SAME QUALITY. IMPROVED SYSTEMS.
Contemporary, relevant, innovative.
Since our last update, the QCPP Reform is well underway and will be delivered as Quality Care 2020.

Quality Care 2020 is a contemporary program bringing together best-practice business operations with excellence in safe and quality care.

The enhanced accreditation program is centred around enabling continuous improvement and innovation in your pharmacy, so you and your business perform at your best.
What's changing?
The QCPP will be less prescriptive to encourage innovation and support greater flexibility for your business, while ensuring safe and quality care in line with contemporary industry standards.
Improvements include:
A 5 domain structure that reflects contemporary standards and is aligned to your business operations
Enhanced focus on continuous improvement to support you in delivering quality, safe, viable care to your community
Encouraging increased flexibility and innovation in your business
24/7 access to an online portal with additional resources to support your business
When will Quality Care 2020 replace the current accreditation process?
From July 2020, Quality Care 2020 will be the accreditation framework for quality in community pharmacy. You might start to notice Quality Care 2020 at upcoming events, on our website and in support resources and material.
QCPP will provide you with detailed information and resources in the lead up to Quality Care 2020, to give you plenty of time to prepare for upcoming assessments.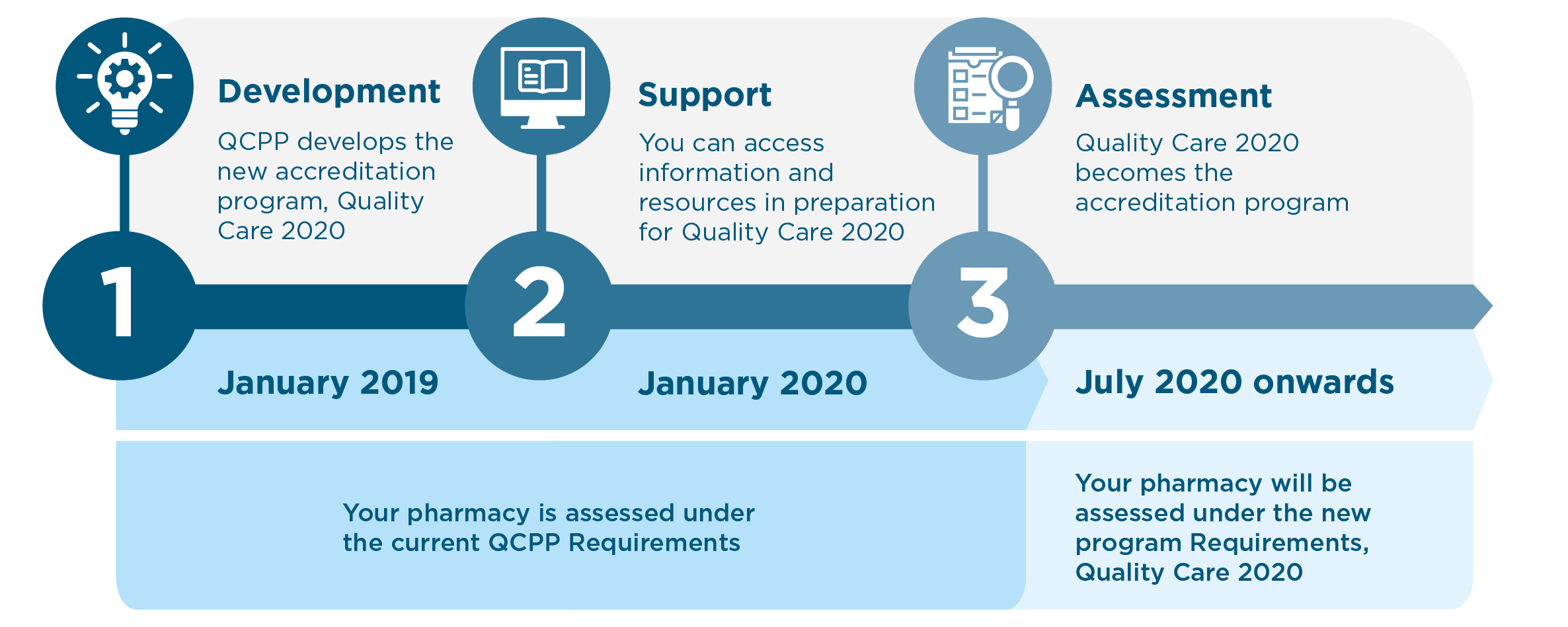 Further information To stay informed about Quality Care 2020, visit the QCPP website or stay subscribed to the QIP Newsletter.
You can also contact the QCPP Helpline on 1300 363 340 (9am-5pm AEST) or email QualityCare2020@qcpp.com.
Copyright © 2019 Quality Care Pharmacy Program, All rights reserved.
We send updates and newsletters to accredited pharmacies and industry stakeholders to help ensure that community pharmacies provide quality professional services and customer care. You're receiving this email because you're a QCPP-accredited pharmacy, associated with one, or have previously been so.

Contact Us
Quality Care Pharmacy Program
Level 2, 15 National Circuit
Barton, ACT 2600
Australia

Add us to your address book

QCPP helpline: 1300 363 340
f: 02 6270 1885
e: help@qcpp.com
w: www.qcpp.com

Want to change how you receive these emails?
You can update your preferences or unsubscribe from this list.

Disclaimer
All content provided in this e-newsletter is for informational purposes only. It is the QCPP pharmacy proprietor's or manager's responsibility to ensure compliance with legislation under the signed T1A Legal and Professional Obligations Declaration. QCPP will not be liable for any losses, injuries, or damages from the display or use of this information. This email, and any attachments, may be confidential and also privileged. If you are not the intended recipient, please notify the sender and delete all copies of this transmission along with any attachments immediately. You should not copy or use it for any purpose, nor disclose its contents to any other person.